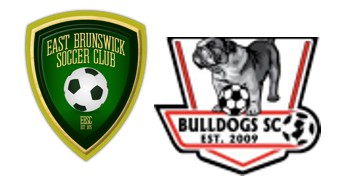 The East Brunswick Soccer Club and the Bulldogs SC are happy to announce their partnership with The Fields Sports Complex. When the club decided that it needed an indoor facility for winter training, the choice to partner with The Fields was an obvious one.
Through talks with Kayleigh Dolinski, the Fields Program Manager, the decision was made to further the partnership beyond winter training, and EBSC will work with The Fields to have indoor tournaments, camps, and clinics geared specifically to EBSC players and teams. During the partnership, The Fields will be EBSC's sole indoor facility.
Kayleigh is excited to help the East Brunswick Soccer Club grow and develop their players, saying, "Offering the club and its players a facility that is able to accommodate their needs, along with supporting their mission statement, we truly believe is the beginning of a long-term relationship." Edgar Dinten of the Bulldogs added, "We are happy to partner with a state-of-the-art facility in our community. We are happy to develop and grow our teams at a local facility we can call home". We, the board of trustees, cannot agree more. We are also glad that we are able to offer our soccer community a local and convenient place to train. "It is all about community building," stated Dom Mastro of the East Brunswick Soccer Club. We, as a club, have always been about community building, so all of these statements resonate through every one of us.
If you would like to know more about this partnership and what it is offering to our community, please feel free to reach out to Chris Kozak or Kayleigh Dolinksi.
We'll see you at The Fields,
The East Brunswick Soccer Club Board of Trustees